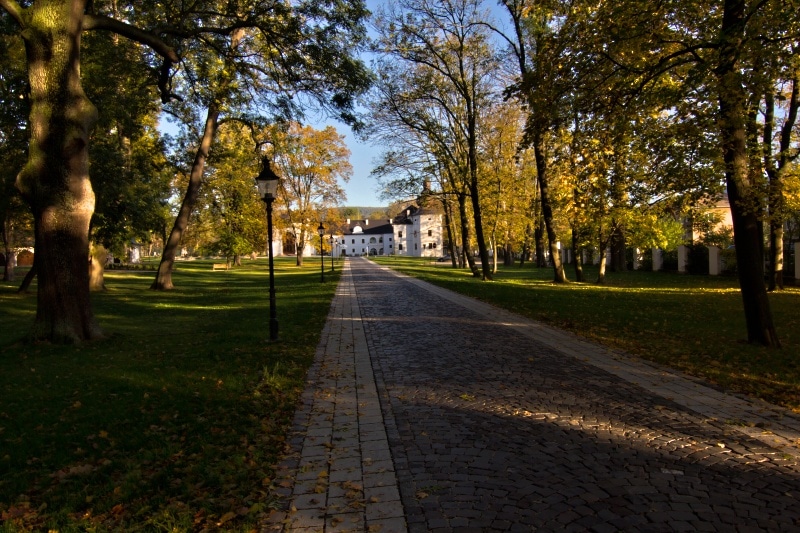 A passionate quest for adventure
One country famous for setting trends in the development of technology and show business has been serving as the cradle of incredible stories and unforgettable personalities. And yet the well-known slogan of the American dream factory claims that these stories have stood the test of time and become immortal. Based on this assumption I find it hard to believe that I had to travel to a small village in Slovakia in quest for a truly compelling story. Oponice played a vital part in a story in which Americans take on a leading role.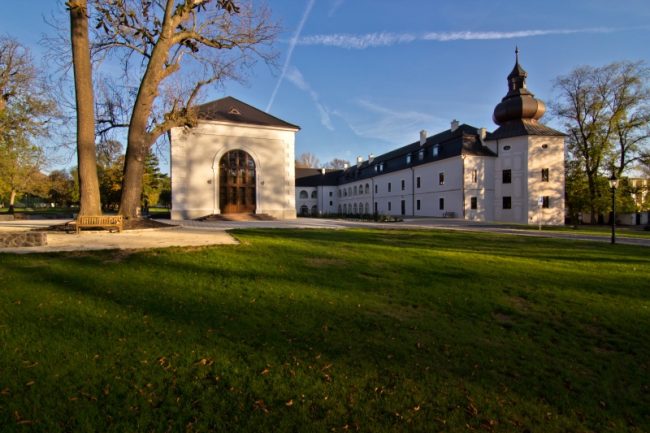 The way to the castle led us through a large wrought iron gate.  Old bare trees welcomed us with their fingers tilted towards my rental car as if they were trying to scratch the glossy surface. I felt an immense relief when I finally parked in the designated lot, closed the doors and turned my attention to the looming castle which currently serves as a four-star hotel. Apart from the everyday services, the mansion offers an unusual attraction – a large library packed with precious old books. All of these books reflect the passion of the Apponyi family, the former owners of the castle. Upon my arrival I asked for the PR manager Peter Kralik to take me on tour around the castle.  After exchanging pleasantries, we went to the library.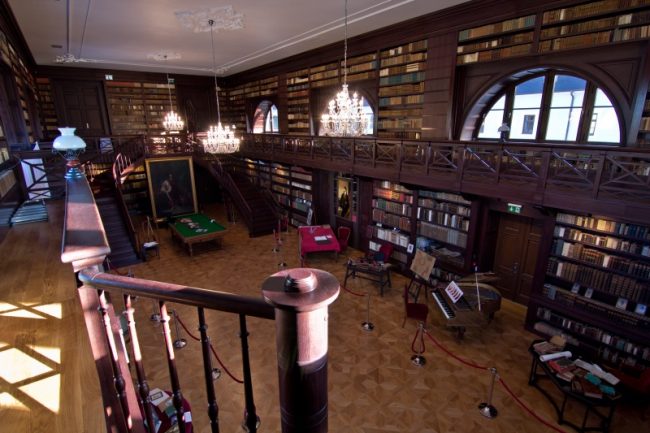 The room with stories to tell
The library has a mysterious life. As the dying light was giving way to the night, the old parquet began to squeak as an indication that the night belongs to other intruders such as myself.  If I hadn't been in the company of Peter alongside me, a passionate lover of Apponyi family's history, I would probably go mad. Therefore I managed to persuade myself that everything is exactly as it should be. Peter turned on the lights, but it did not bring the desired effect. Instead of putting the situation into more positive context, the light had just emphasized the mysterious nature of the hall, where our feelings blended with those ancient authors who had dedicated their lives to writing. On the left side of the room there were some old trunks that had supposedly belonged to Thomas Cardeza from Philadelphia. There was a typewriter on the small table next to the trunk. In it was a letter with a barely recognizable writing signed by Cardeza himself. At that very moment my mind jumped. I heard somebody speak English with American accent which I adore so much. The whispering just did not seem to die away. Somebody addressed me in a Slovak language prompting me to say – English please. Then I realized that Peter had been speaking on the phone. When he finished after some time, we moved to the table to view some old photos and the story of Americans in quest for passionate adventure began to unfold.
King of hearts and prince of entertainment
What on earth did Americans do in a remote village of former Czechoslovakia? The prominent figure of the story is Henrich Apponyi, a bon vivant and ardent admirer of art, hunting, travelling and entertainment. Apponyi simply loved a luxurious life, spectacular parties and discovering new places. He is the one responsible for inviting interesting personalities from America to a small village like Oponice, which serves as the main mansion of Apponyi family. Make no mistake about it – they did not come either to explore the hidden and undiscovered beauty of Czechoslovakia, or engage in business. The driving forces behind their arrival had been curiosity, money, games and fun. Thomas Drake Martinez Cardeza was one of the most interesting personalities. Being Henrich's long-time friend and companion, Cardeza accompanied him during the visit to Paris's most prestigious clubs. Both of them had been very well aware of the beauty of the city of lights with particular regard to Montmartre, where entertainment flourished including the establishment with a windmill on the roof – Moulin Rouge. The American bohemian and Czechoslovak aristocrat knew every inch of the nightlife in Paris. They had detailed information about where the best food and drinks including absinthe were served. What is more, they kept very good track of places where the most talented stars of cabaret used to perform every night. That is how they managed to find an American singer and dancer named Josephine Baker from St. Louis. Her career was starting to hit unbelievable heights at that time. The two friends came up with the idea of inviting charming Josephine to Czechoslovakia and throwing a party at the castle. What glory and prestige it would be! And they somehow were successful in tempting the Black Pearl to Czechoslovakia.
The Black Pearl
Josephine's rise to prominence, driving European men crazy with her Banana dance along the way, is shrouded in mystery. Even today we are unable to determine the exact date of this memorable event. Peter Kralik, a big admirer of the Apponyi family, assumes that it occurred sometime between 1927 and 1930.
What would be the most apparent reason behind Josephine's arrival to a completely unknown country? I would think that the international language of money may have had some impact paired with intense curiosity. Reports suggest that she was the biggest star and the first act at the fancy party. She danced and sang on a massive snooker table, while men stood around hypnotized.  Some had to release their bow ties that is for sure. Thomas Cardeza was also present, blessing his fate that had saved him from going down with the unsinkable ocean liner, Titanic.
It was getting dark. The mysterious shadows and whispers of history seemed to get tired, as if they were crawling back to the darkest corners. In the end, the library remained silent and undisturbed. Unfortunately the story came to an end for me, but now . . . luxury the relaxation of the hotel awaited me.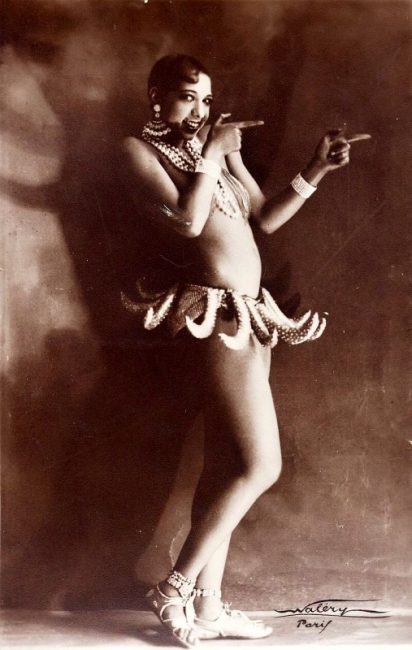 Did you know that…?
Josephine Baker manage to capture women's attention as well? During this era, sun tanning became the vogue. Every woman dreamed of having Baker's amazing skin at the time. What is more, this trend led to the emergence of a brand new product called tanning oil. Parisian women observed also that
Josephine had shaved her armpits, which was a startling revelation to the fashion industry.
Thomas Drake Martinez Cardeza, a close friend of Henry Apponyi, was aboard the Titanic on its first and last voyage?
Cardeza, alongside his mother, were among the 711 lucky ones who survived the disaster of the famous ship. He was also accompanied by his servants and jewelry worth millions. Mary, Cardeza's wife, had stayed home in their Kovarce mansion, which also belonged to the Apponyi dynasty. The Cardeza family received a record-breaking $17 million in insurance money for the sunken jewelry, which was the highest amount paid at that time in the history of American insurance industry. Some unconfirmed reports claim that the highest rated jewel owned by the Cardeza family was a dark blue diamond bearing some resemblance to the noteworthy piece of jewel called Heart of the Ocean presented in the recent Cameron blockbuster, Titanic.
Cardeza used to entertain the audience with a trained chimpanzee and rollerskating while staying at count Apponyi's mansion?
His wife Mary derived pleasure from helping others. They held her in high regard for donating quilts and clothes to women simply out of gratitude for their service. Once she managed to attract some attention by driving a car, unheard of at that time. Being a passionate philanthropist, she had established a hospital for WWII invalids in Budapest. Some of them were treated afterwards at the mansion.
Thomas Cardeza died in 1954 at age of 89. Thomas and Mary Cardeza founded The Cardeza Foundation for Hematologic Research in 1939 in loving memory of Thomas's mother Charlotte Drake Cardeza. The foundation has been operating ever since.
Thomas and Charlotte Drake Cardeza are buried in the West Laurel Hill Cemetery, Bala Cynwyd, PA.
The mansion in Oponice had been visited by the brothers of former US president Theodore Roosevelt.
Henrich Apponyi inherited his passion for collecting things from his ancestors. His unbelievable collection of books is still accessible to wider audience in the library of Chateau Apponyi. The collection is comprised of books written by such authors as Giordano Bruno, Machiavelli and Isaac Newton. However, apart from collecting valuable books, he managed to run up substantial debt as well. He used to bet on horse racing, play roulette and poker. According to some reports, on one of these occasions he lost several houses. He died in rather suspicious circumstances on 5th of December,1935 in Berlin. Rumor has it that he shot himself.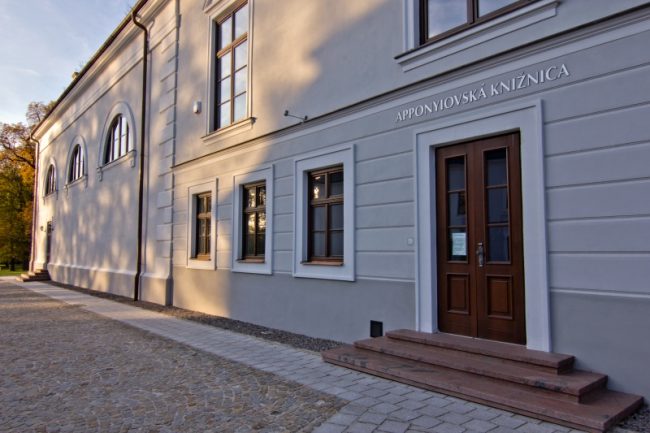 If you are planning to visit Europe, do not miss the chance to visit Chateau Apponyi where Americans and Europeans always feel at home.
How to get there
Starting point: Budapest – Highway M1 a 64
186 kilometres, 2 hours 31 minutes
Starting point. Vienna – Highway E571/E58/E75
186 kilometres, 1 hour 58 minutes
Starting point: Bratislava,- Highway E571/E58/E75 a E571/E58
112 kilometres, 1 hour 11 minutes
Château Appony ****
Oponice 271
956 14 Oponice, Slovakia
Reception: +421 38 32 38 111
info@chateauappony.sk
www.chateauappony.sk/en
GPS
lat: 48.46402220
long: 18.14849138
Spilett Penman
Photos: Peter Rak, Dreamstime, Wikipedia
Illustration: Philip Fritz