Three tips on stylish accommodation in LA
For the travelers who chose "City of Angels" (Los Angeles), we have three interesting tips. Thanks to them you will enjoy the city's atmosphere while staying in a stylish lodging. No ordinary hotels, but rather unusual places where besides the roof over your head, you get a great deal of luxury and perfect experiences.
If you decide to enjoy the LA and don't worry about your spending, we offer three interesting tips on stylish housing that will leave you with unforgettable experiences.
Dream Hollywood Hotel, Los Angeles
The Dream Hotels network considers it its flagship on the West Coast. As of July 2017, The Dream Hollywood is at the heart of the revitalized iconic, but previously rundown LA neighborhood. During weekend it transforms into a magnet for the beautiful chic people. More than simply a place to sleep, it also includes the first West coast outposts and of Tao and Beauty & Essex restaurants. For health and fit oriented people, it also features the first gym by trainer to the stars, Mr. Gunnar Peterson. This stylish hotel offers hydraulic rooftop pool that converts into a dance floor at night.
Start your day at Dream Hollywood with breakfast at the rooftop Highlight Room immersed in views over the Hollywood Hills or grab and go coffee with muffins from the open-air lobby bar before jumping into the complimentary house Lincoln. Plenty of USB ports in the airy bedrooms will keep the most dedicated influencers juiced up for social work. It is useful, as from the hip Mr. Brainwash lobby art to the perfectly photogenic side alley, there is an Instagram moment around every corner.
Dream Hollywood Hotel
6417 Selma Ave, Hollywood, CA 90028
United States
wwww.dreamhotels.com/hollywood
The Surfrider Malibu
Located at the iconic Pacific Coast Highway. Just walk across the street and find yourself on the world-famous Surfrider beach. The hotel is built in the style of California's modern beachfront home, drawing its inspiration from the picturesque landscape around Malibu and the rich heritage of surfing culture in California. Today, Hotel Surfrider is a modern boutique hotel with 20 rooms offering its guests a unique atmosphere.
This exclusive hideout of Malibu has been beyond the reach of anyone without their own toes-in-the-sand beach house since 1930s. Hotels are scarce. Good luck getting a room at the new Nobu Ryokan. At this fresh little hangout however, architect Matthew Goodwin and his creative-director wife Emma are inviting guests into the inner circle. Goodwin grew up riding waves at the opposite beach and after a decade in New York, he realized he missed the easy-going lifestyle. Not able to pass up the chance to resurrect The Surfrider, which first opened as a motel in 1953, he cleverly sidestepped the more obvious mid-century look.  Rooms are reimagined in clean, contemporary California style. Everything is tactile, from the Turkish-wool waffle bathrobes by Venice Beach-based Parachute to the rough-hewn, reclaimed-wood coffee tables and teak beds custom-made by Croft House LA and Malibu Market & Design.
Catch sunrise from the balcony or maybe borrow one of the bespoke surfboards, then cross the road to the pier for brunch. Here, the Malibu Farm Café serves greens from biodynamic One Gun Ranch. Nearby, there are canyons and sea cliffs to hike or you can try to score a table at Soho House offshoot the Little Beach House Malibu. This hotel is tapping into the scene that we just can't get enough of.
The Surfrider Malibu
23033 Pacific Coast Hwy, Malibu, CA 90265
United States
https://thesurfridermalibu.com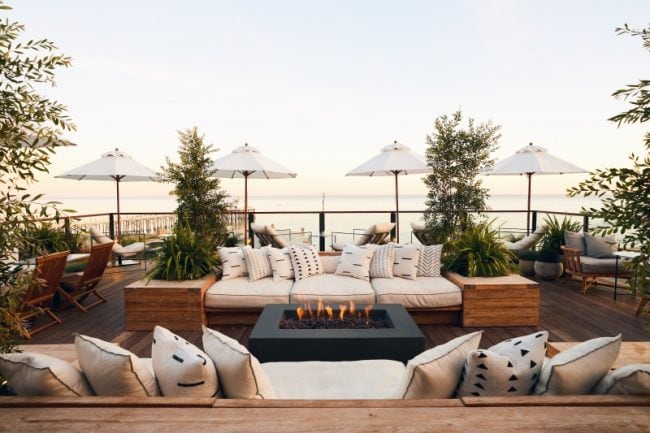 The Hollywood Roosevelt Hotel, Hollywood Boulevard, Los Angeles
The hotel was built in 1926, the so-called "golden age" of Los Angeles and was named after the 26th President of the United States, Theodore Roosevelt. Its construction was funded by a group of Louis B. Mayer, Mary Pickford, Douglas Fairbanks & Sid Grauman, costing $ 2.5 million (now $ 36.1 million). It opened on May 15, 1927.
A Lovely boutique hotel located along the Hollywood Walk of Fame. This iconic Hollywood Roosevelt hotel has been given a 25 mil USD facelift, revitalizing its vintage roots for a more modern clientele. Long established as a firm favorite of Tinsel town's IT crowd, ever since it played host to the first ever Academy Awards in 1929. It lists everyone from Errol Flynn, Marilyn Monroe, Charlie Chaplin, Clark Gable, F. Scott Fitzgerald, Prince, Angelina Jolie and Brad Pitt as past guest.
The rooms and public areas might have been updated, but the mural on the bottom of the Tropicana Pool painted in 1988 by David Hockney (now worth millions) remained for guests to admire while sipping California cocktails and stargazing the A-list. Listen to live jazz music at the Library Bar or enjoy your evening with your friends playing various games in The Spare Room, while drinking innovative cocktails. A truly modern Hollywood revival.
The Hollywood Roosevelt
7000 Hollywood Blvd, Los Angeles, CA 90028
United States
www.thehollywoodroosevelt.com
Gallery
Dream Hollywood Hotel, Los Angeles
The Surfrider Malibu
The Hollywood Roosevelt Hotel
Michaela Micatka / Peter Fritz
Photos: Hotel Dream Hollywood – Los Angeles Press, Hotel The Surfrider Press, The Hollywood Roosevelt Hotel Press, Peter Fritz