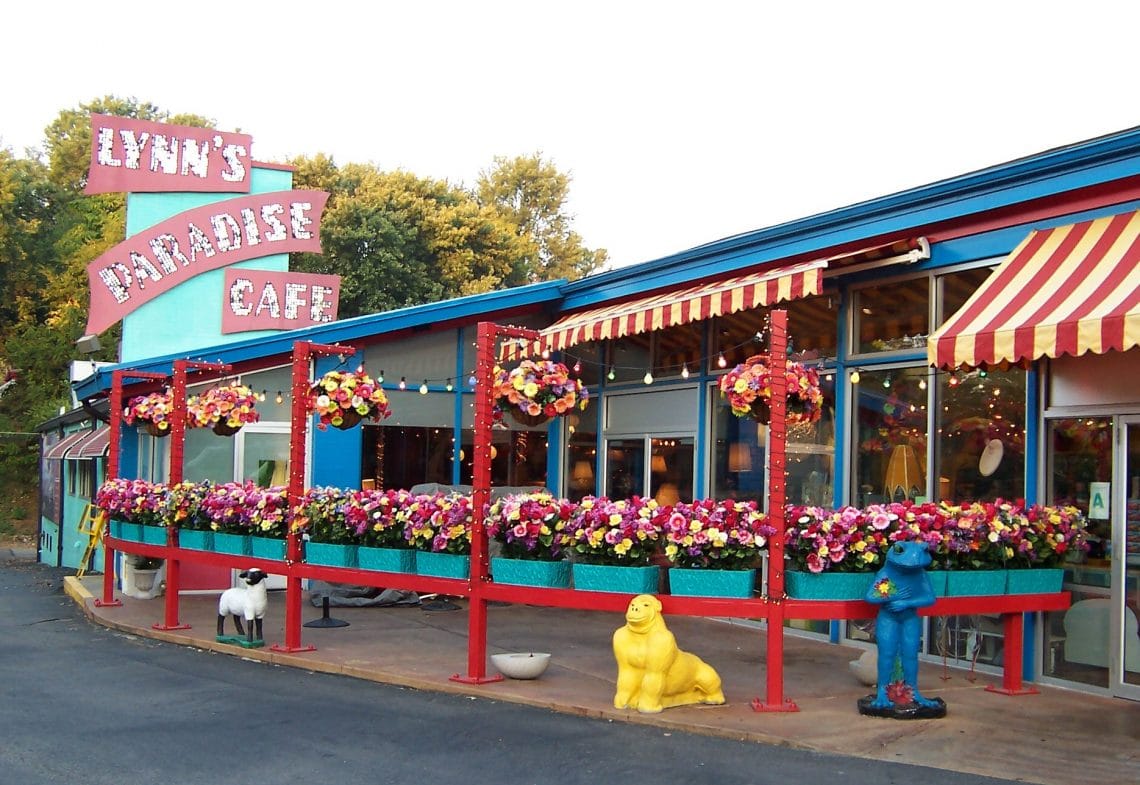 Dinner at the Lynn´s Paradise Cafe – A restaurant that no longer exist
Sometimes I ask myself, why the good things in life are so misfortunate and often end up in the pitfall of memories.  Similar fate also hit one of the most famous restaurants in Louisville.
When in 1991 Lynn Winter opened her restaurant – Lynn's Paradise Cafe in the building of former grocery store on Barret Avenue (part of The Highlands), nobody expected that a Louisville based restaurant would earn high reputation and success around the entire United States.  The Lynn´s Paradise Cafe even made it to   The Oprah Winfrey Show and to the Food Network's show Throwdown! with famous chef Bobby Flay, in which Lyn Winter, the founder and chef in one person had won over Bobby in a competition for the best breakfast.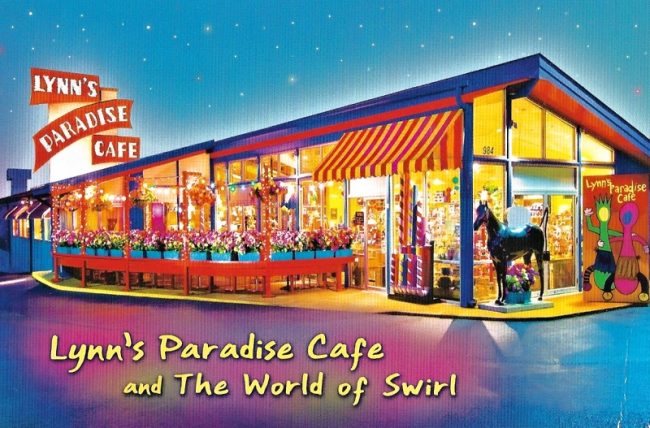 What is the story behind the establishment of this restaurant?
Former businesswoman Lynn Winter who worked in wood processing company in Kentucky in North California for eight years said her goodbyes to heavy machinery and decided to pursuit her business endeavors into a completely different sector. For some time, she had an idea which direction she would like to go and that was to open a good restaurant. Thus, she freed herself from the past and bravely jumped into the whirl of her new business.
Lynn was a passionate local art collector, which reflected on the restaurant's walls – the showcase of colors and various artifacts. (The restaurant was famous for its colorful for some maybe little bit tacky interior and exterior. When Lynn opened it in 1991, she chose a unique location attracting different groups of people from around the world. Thanks to that, the restaurant was giving out some pleasant and positive vibes. Apart from other features, Lynn introduced new aspect of food and drinks and created unique culinary experience for her customers until then not yet been fully utilized.)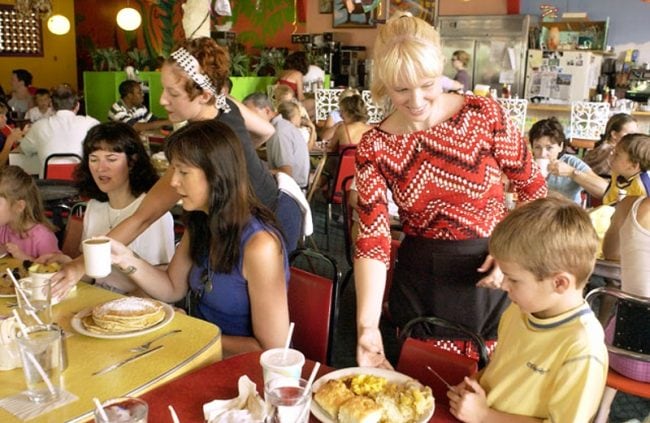 First and last time
I am glad that I have had the opportunity to get to know Lynn´s Paradise Cafe. On the other hand, I am sorry as it was only that once and last time.
When I visited Lynn´s Paradise Cafe in 2010 I have been through a long series of departures and arrivals (from Vienna to Frankfurt, German financial hub to Chicago and from there another flight to Louisville) and so was extremely exhausted. It took only one single glimpse of its interior and it was clear to me that the visit to this unique microworld with wonderful gastronomy and courageous environment will be the experience for the rest of my life. I and Susan entered the Lynn's paradise through a shop within the restaurant. I have discovered interesting souvenirs and gifts I appreciated the moment I remembered my relatives, who were certainly expecting some Kentucky gifts. As soon as we entered the restaurant we were welcomed by its manager Patty Schnatter. My image of American not so welcoming hospitality I have heard about  has vanished. I experienced a very pleasant welcome and excellent service and care. The rich choice of different meals on our table was yet another proof.
I had the opportunity to taste the most famous specialties – "Hot Brown" and "Derby Pie" (the official desert of famous Kentucky Derby). But I didn't miss other choices of amazing food such as cheesy balls or seafood pasta. And because I couldn't eat all that mouthwatering food I was given the deserts as take away. Yummy breakfast for upcoming days was thus secured. Not to try the Mint Julep drink made with bourbon, sugar, water and mint leaves while in Louisville would be a sin. It was a nice and pleasant gathering not to ever be forgotten.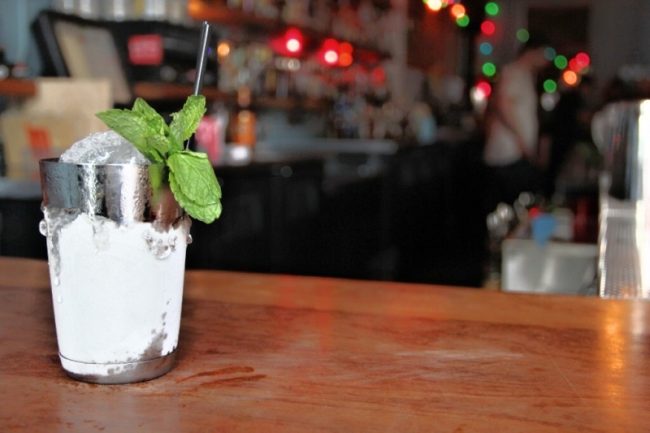 Restaurant Lynn´s Paradise Cafe had earned many fans and was even rated among the Top 4 most entertaining restaurants in the USA. The more I regret to have to write this article in the past tense as her story ended in January 2013. There was lot of rumors said and written about the reasons of its closure but I rather not digged into it for me it was an original, bubbly restaurant and that is how I will remember it.
Fact (this time less funny) number 6
Throughout your journey make sure you enjoy every place and its atmosphere. Who knows if you are lucky enough to return to your favorite places.
Peter Fritz
Pictures: Peter Fritz, Louisville Convention & Visitors Bureau