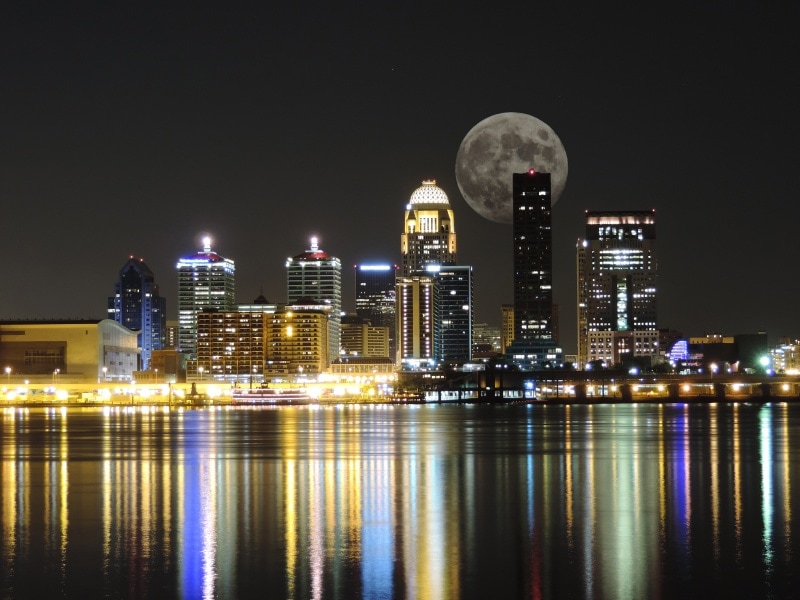 Louisville: More than Kentucky Fried Chicken
It's in the eastern part of the US today, but early on it was a major jumping-off point for travelers to the Wild West. Some consider it the gateway to the South, while others call it a threshold to the North; and depending on whose opinion you're getting, residents of Kentucky's largest city speak with either a distinct Midwestern twang or the lilting drawl so typical of the regions below the Mason-Dixon Line. Not only that, the general consensus around here is that it's a decent-sized city, but visitors often swear it feels more like a small town. Needless to say, Louisville has always suffered the mild effects of an identity crisis.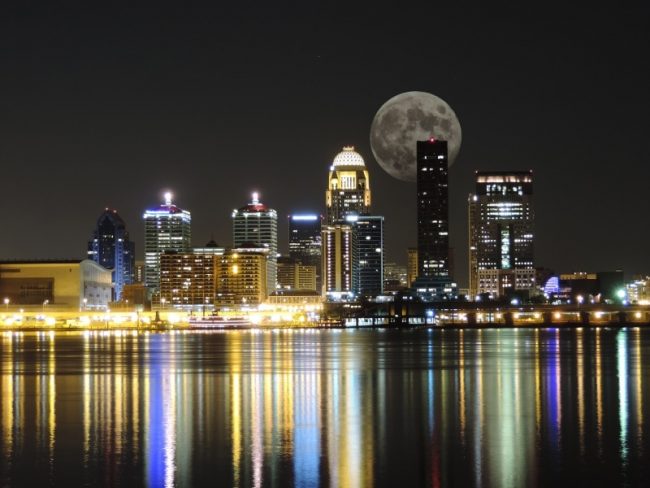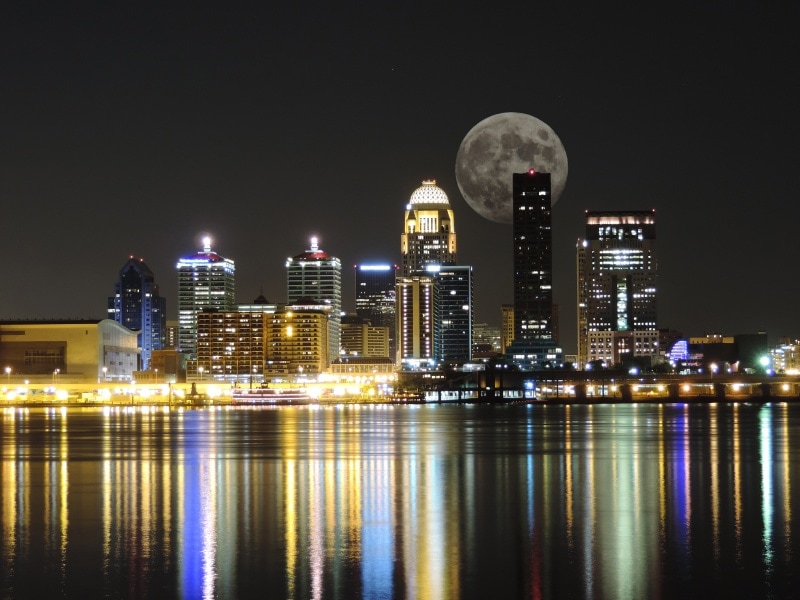 This schizophrenic evolution, however, has had fortunate results on the culinary landscape, and over the last decades, the Derby City, as it's known, has steadily gained notice for having one of the country's most vital food scenes. Not only are there heaps of independent eateries that include quiet cafes, ethnic restaurants, bourbon lounges, elegant hotel dining rooms and quirky diners, this laid-back city on the Ohio River has scores of talented local chefs who have taken regional cuisine to a nationally recognized level. Top it off with the influences of the state's money-making hallmarks – whiskey, tobacco and horse racing – and it's easy to see a distinct urban cuisine on the rise. So sample the fare on offer and you'll understand why they say it's your own fault if you go hungry in Louisville today.
Of course, mention Kentucky, and most people think of Louisville's most famous fast food export: Kentucky Fried Chicken. There is more to local cuisine, however. In addition to southern favorites such as mint juleps, country hams, pimento cheese, biscuits, and barbecue, there are a number of distinct food items identified with Louisville:
Ale-8-One: A ginger-based soft drink developed by G.L. Wainscott and bottled since 1926, it is based on a closely guarded family recipe.
Beer Cheese: A tangy blend of sharp cheddar, beer and spices most often served with crackers, celery ribs and carrot sticks, its prominence is owed to John Allman, a larger-than-life restaurateur who in the 1930s popularized the snack at his restaurant on the Kentucky River.
Benedictine: Famed Louisville caterer Jennie Benedict invented this cucumber and cream cheese spread in the late 1800s. Smear it on crackers, use it for dipping vegetables, make sandwiches out of it – Benedictine is a staple in Louisville households.
Blue Monday Bar: Since 1921, this chocolate-draped pulled cream candy has been a bestseller at Ruth Hunt Candy and throughout the state.
Burgoo: A rich soup originally made with wild game; today it often contains chicken, beef, pork, mutton and corn, lima beans, and tomatoes.
Derby Pie: This chocolate nut concoction was invented in 1950 at the Melrose Inn in Prospect and is a registered trademark of Kern's Kitchen today. It's a staple for Derby Parties in May.
Henry Bain Sauce: Concocted by the head waiter at the Pendennis Club, this tangy condiment complimented the wild game brought in by customers in the 1880s. Nowadays, served alongside slices of beef tenderloin, it's a mainstay of the traditional Derby lunch or dinner.
Hot Brown: An open-faced sandwich invented for late-night dancers at the legendary Brown Hotel in the 1920s, with shaved turkey breast and toast points smothered in Mornay sauce before it's popped under the broiler with a topping of tomato slices and bacon strips.
Modjeska: Named after Helene Modjeska, the famed Polish actress who inspired a local confectioner during her 1883 visit to Louisville, this is a caramel-dipped marshmallow popular year-round but especially at Christmas time and Valentine's Day.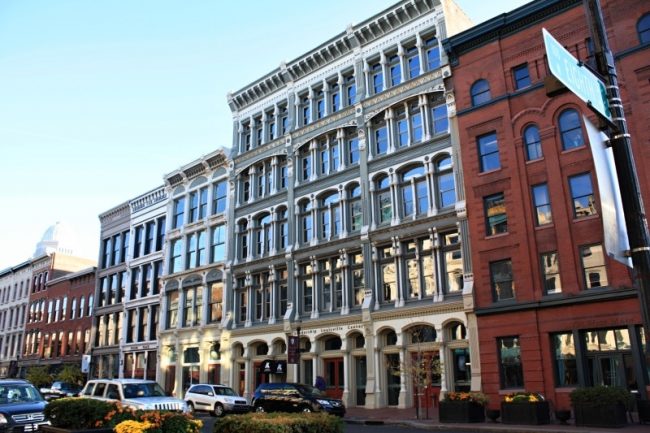 Benedictine
One of the most famous figures to emerge from Kentucky kitchens was Jennie Benedict, a beloved restaurateur and caterer in the 1800s. Known for her wonderful cakes and tea sandwiches, she concocted a special cream cheese-and-cucumber spread that still lives on today. This easy recipe comes from A Feast for the Eyes: Recipes from America's Grandest Victorian Neighborhood. Old Louisville, the neighborhood she called home, counts as one of the largest historic preservation districts in the US today. Its hundreds and hundreds of elegant mansions and Victorian homes form a virtual open-air museum of 19th-century architecture.
1 large English cucumber, coarsely chopped

2 tablespoons chopped white onion

¼ cup chopped fresh parsley

¼ cup mayonnaise

16 ounces cream cheese, softened

1 teaspoon kosher salt

½ teaspoon ground white pepper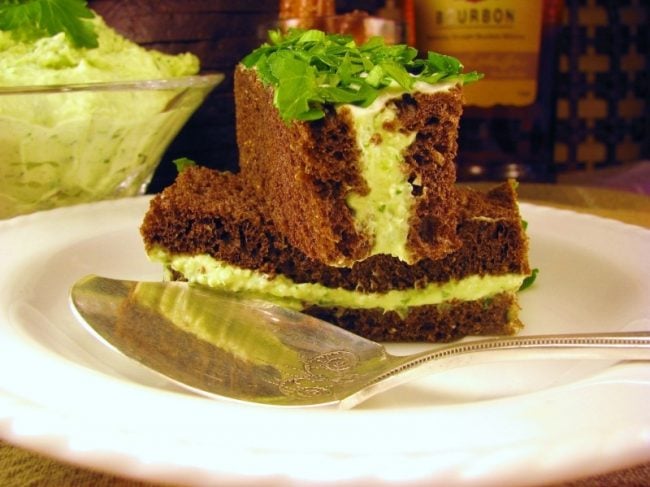 In a food processor, purée the cucumber, skin and all, with the onion. Remove from the processor and use a clean towel or a bit of cheesecloth to squeeze all the liquid out of the mixture. Set aside. In the processor purée the parsley and mayonnaise to form a smooth paste. This will give the Benedictine its characteristically green color. Add the cream cheese to the processor and pulse until smooth. Transfer to the bowl with the onion-cucumber mix, season with the salt and pepper, and combine thoroughly. Refrigerate for at least an hour and enjoy with celery and pretzels, or use slices of brown bread to make finger sandwiches.
David Dominé
Photos: Dreamstime, Peter Fritz, David Domine Archive